Tare da haɓakar kasuwar sigina ta '' waje, '' shin nunin LED zai iya zama babbar tashar nunawa a cikin wannan filin?
A farkon rabin shekara, saboda tasirin sabon kamuwa da ciwon huhu, masana'antu daban-daban suna da tasiri daban-daban. Daukar masana'antar nunin LED a matsayin misali, bukatar allon haya na gargajiya da manyan aikace-aikacen allo na waje ba su da aiki, amma umarni da aika cibiyar kasuwa da ake bukata don aikin gwamnati, da kuma filin jigilar jama'a.siginar dijital market in China has little impact on the market in its field, and it has become a growing market with few LED displays. So is it possible for LED displays that are intelligent and whose prices are declining year by year to become the overlord of siginar dijital display terminals?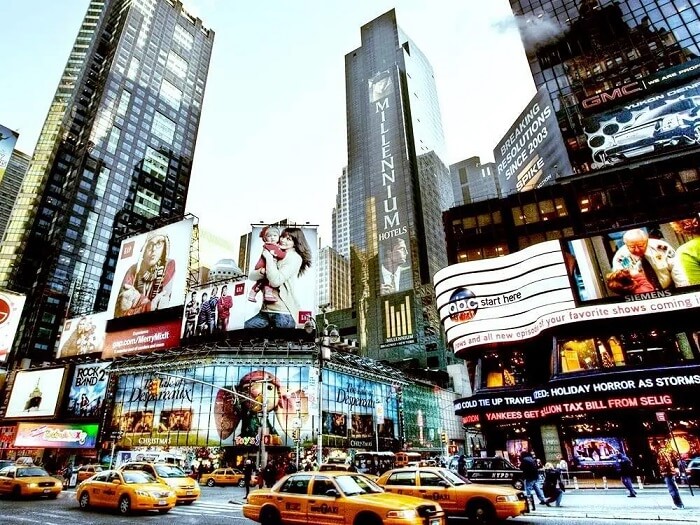 The siginar dijital market of public transportation platforms and retail stores grows against the trend
Dangane da bincike daga cibiyoyin da suka dace, mafi yawasiginar dijital product manufacturers are turning their attention to the outdoor market in the first half of the year, which is mainly reflected in bus stations and other land transportation platforms, as well as the fast-growing self-service ordering displays in fast food retail application scenarios. The lineup of public displays and signage displays for "outdoor" or "semi-outdoor" applications with more than 1000nits is growing steadily. As a high-brightness display terminal, LED display screens have been gradually decreasing in price in recent years, and the dot pitch has been shrinking, and the display size has been shrinking. It has a strong impact on the siginar dijital display market and has become a dark horse in this field.
Wannan annoba ta shafa a farkon rabin shekarar, jigilar kayayyaki na wajesiginar dijital machines dropped sharply. In order to improve corporate profitability, many manufacturers expanded their product range and shifted their attention from the more affected indoor displays to those with rising demand. Outdoor display markets such as public transportation platforms. Secondly, during the epidemic, many stores added siginar dijital that can display posters, videos and strong interaction in order to attract traffic. The creation of digital stores has also promoted the growth of siginar dijital demand to a certain extent. Furthermore, due to the need for prevention, control and isolation, manufacturers have taken longer to develop products. Therefore, during the epidemic, the display terminal technology is catalyzed to mature, and siginar dijital terminals display three major display devices: LCD, DLP and LED. Technological competition during the epidemic has promoted the maturity of technology and the decline of market prices, thereby stimulating the overall market. Industry insiders predict that starting from 2021, the growth rate of outdoor siginar dijital display products will gradually exceed that of indoors. With the emergence of new high-brightness products, outdoor display products will have more opportunities to appear in new outdoor application scenarios such as outdoor sports and hotel terraces.
LCD, DLP, LED suna fafatawa a fanni ɗaya
Who can win in the field of siginar dijital terminal display?
Alamar dijital galibi ƙaramar matashi ce wacce ke buƙatar kallo na kusa. Fa'idodi na LCD da DLP ƙanana ne da kuma nuni mai kyau. Sabili da haka, kafin gabatarwar ƙaramin fitilar LED, LCD da DLP sune manyan kayan masarufi masu nuna alamun sigina na dijital. Tare da inganta ƙudurin samfuri, samfuran ƙaramin fitilar LED ya fara shiga kasuwar cikin gida kuma ya fara gasa a kan matakin ɗaya tare da bangon LCD mai ruɓewa, tsinkayen masana'antu da sauran kayayyakin. A cikin 2019, LCD da LED na fasahar nunin haske kai tsaye sun haɗa hannu a cikin kasuwar "Semi-waje", musamman a cikin yan kasuwa da wuraren jama'a. A cikin 'yan shekarun nan, fasahar ƙaramin fitilar LED ya balaga kuma farashinsa ya faɗi. , Farashin wannan samfurin shima kwanan nan ya fara nuna yanayin ƙasa.
Koyaya, kodayake LCD da DLP sun mamaye wani ɓangare nasiginar dijital market, their low-brightness characteristics limit their application in outdoor scenes. Therefore, in order to seize the opportunity of outdoor siginar dijital, digital signage manufacturers have come in to introduce higher brightness 4000nit and IP protection level higher than 56 products, but its price is close to or even higher than the price of P2-P5 LED display, and its protection level is far less than the protection performance of outdoor LED display, so in the P2-P5 point spacing In the field of outdoor siginar dijital, LED displays have advantages in price, brightness and protective performance. However, in the field of fine-pitch products with higher pixel specifications, the price advantage is still inferior to LCD products. Therefore, major companies in the LED industry are trying to reduce the price difference and seize more siginar dijital market share.
With the maturity of LED display technology and the decline in the price of small pitches, the terminal display market will become fierce, and will spread to the small pitch field, siginar dijital and other major fields, and the competition of major machine manufacturers will also increase. It's getting more intense. With the current advantages of LCD, DLP, and LED, the three major industries have equal opportunities and equal markets. In the future, who can lead in terms of price advantage and technological advantage will be able to break through in the field of siginar dijital and even commercial display.